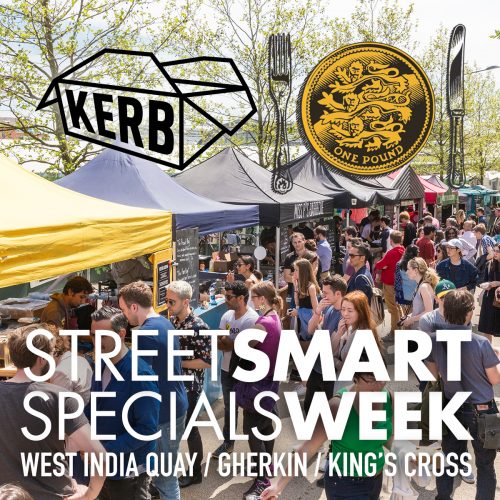 Street food vendors at selected KERB Markets across London will be cooking one-off specials to raise money for StreetSmart from Wednesday 14 June to Friday 16 June.
During the three days, between 12-2pm, KERB on the Quay, KERB Gherkin and Kerb Kings Cross will be donating at least £1 per dish served to fundraise for homeless people based near each respective market. This will be the second time KERB Markets have partnered with StreetSmart: KERB Gherkin raised over £1,000 during a single lunchtime last Christmas.
Signature dishes up for grabs include Only Jerkin's beer-battered fried 'Jerkin Chicken Burger', Taco Dave's beer and citrus marinated Arrachera (steak) rice-box, Smokin Lotus's eight-hour slow smoked pork belly with a char sui BBQ sauce, and Kimchinary 'Bibimbap'. Veggie-lover's can enjoy Wandercrust's 'Mark Zuccerberg', a roasted butternut squash, goats cheese and black pepper pizza, and for dessert Nonna's are serving their award-winning cobnut gelato. Project Sandwich will also be serving their 'Empire Club Sub' with 100% of the proceeds going to StreetSmart.
KERB Kings Cross will be employing three trainees from The Margin Project's café training programme, a local employment-focused charity that offers homeless people a chance of employability, for two days in June.
Visit https://www.kerbfood.com/street-smart-charity-special/ for more information.