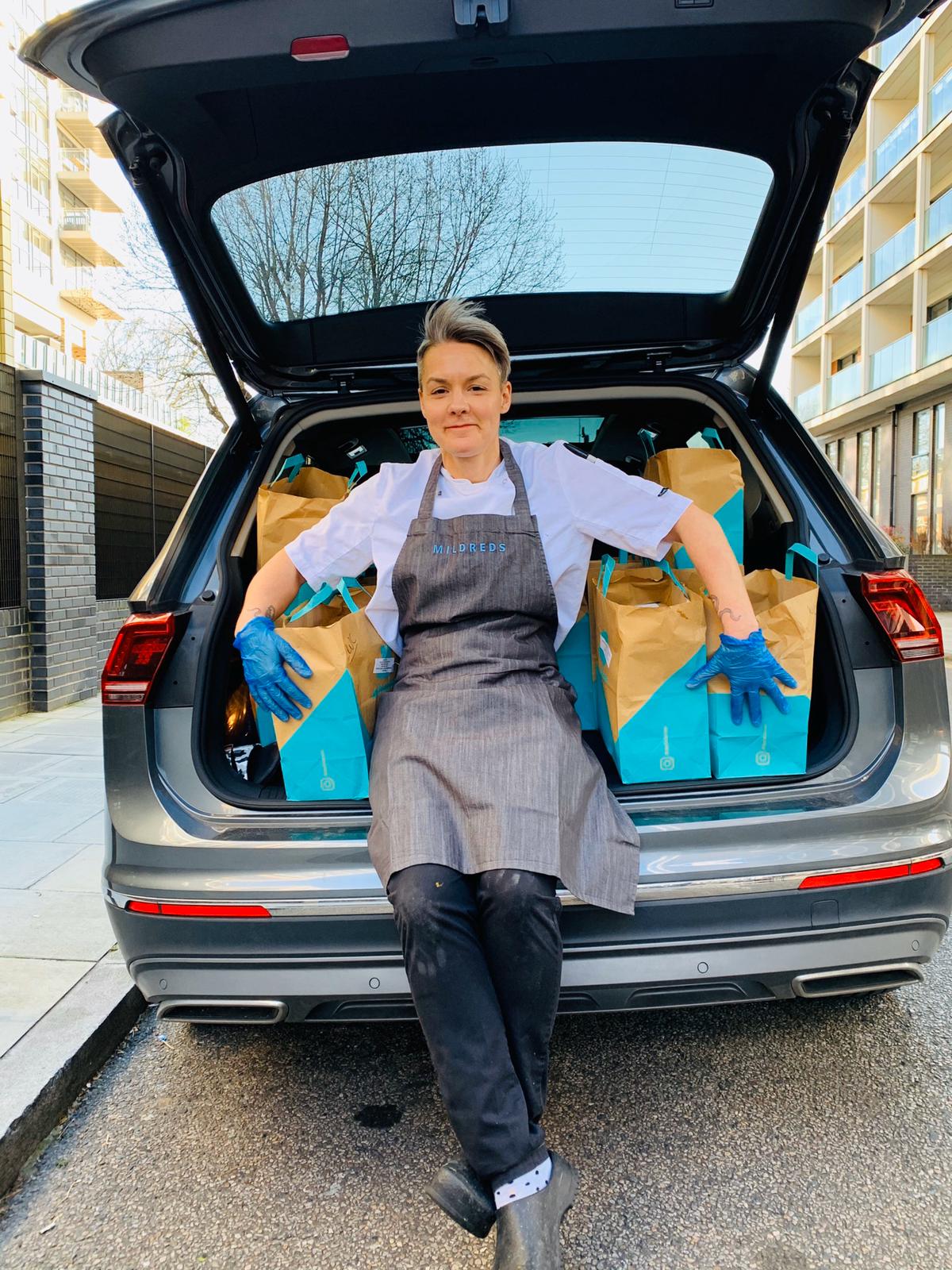 We have been heartbroken to see the effect of Covid-19 on the hospitality industry but it has been truly inspiring to see so many restaurants step up to the challenge of feeding NHS staff and those most in need in their communities.  So what can you do as a diner to help? – Well, you can order a delivery or takeaway from one or your favourite restaurant, subscribe to their weekly food parcels, buy their cookbooks or leave a review of a fab experience you had in the past. Other ideas are to buy a voucher for when the restaurant reopens or their merchandise like tote bags and t shirts. You can also support, by watching well known chefs live on Instagram share and cook their favourite recipes. Here's just a few of our favourite initiatives:
Mildred's – They have reopened for their superb Vegetarian and Vegan takeaway and delivery and are preparing over 400 meals for the NHS every week."Our amazing team here at Mildreds are dedicated to focusing on how we can support our community and more specifically our NHS workers who are on the front line caring for patients with the coronavirus. We have provided over 3000 meals to several London hospitals. These meals are nutritionally balanced, full of flavour vegetarian and vegan main meals, made by us, in our Dalston restaurant for key worker staff who have neither the time nor the energy to shop and cook between shifts. I believe in times of crisis, creativity and strength is formed from our community and I'm proud to be a part of such a great team in a time of uncertainty." Sam Anstey, Managing Director, Mildreds. 
Spring – Skye Gyngell's legendary restaurant has set up an online shop supporting small farms and producers where you can order some delicious food parcels filled with a great array of unique products. Skye has also teamed up with Hospitality for Heroes to provide healthy and nutritious meals for Royal London Hospital. Skye Gyngell, "We have been cooking a simple, wholesome, organic vegetarian meal for our local NHS hospital, The Royal London Hospital. We have really enjoyed doing it, it's been fun and nice to feel like we are contributing in some small way and good to know that we can supply a healthy, nutrient dense meal to those who may need it."
Jolene, Hackney – Over the next couple of weeks, Jolene will re-open its doors and provide a shop for baked goods, wine, cordials and food to go plus an exciting dinner pick up service, you can also purchase vouchers. Since closing in March, alongside sister restaurants Western Laundry and Primeur, all have turned their restaurants into food Kitchens to prepare meals for the most vulnerable and homeless affected by the outbreak.
Arabica – For your fix of Meze plus innovative make your own falafel kits, Arabica are now delivering across London, they are also working with Deliver Aid and Plan Zheros to donate their incredible Middle Eastern food to the NHS and vulnerable. James Walters, Owner "So with our doors closed we turned our attention to what we could do to utilise our talents and supply chain. We fired up our south London kitchen to produce fresh, healthy, plant based meals to those who really need it right now – those working around the clock in the hospitals on our doorstep trying to save lives like never before. We've also partnered with Plan Zheroes with a mission to provide meals and surplus food to feed the city's most vulnerable people."
MEATLiquor – We were overjoyed by the news that you can now order deep fried mac 'n' cheese and dead hippy burgers to your door, an amazing lockdown delivery menu now available through Uber eats plus 50% off for Blue light workers.
Café Murano – You can now enjoy Angela Hartnett's pasta at home… think family sized lasagne, risotto kits and mix'n' match pesto, sauces, wine and cheese. Angela has also been working with Cook 19 to provide the NHS with home cooked meals.
JKS Restaurants – As of last week, you can now order the delights of Brigadiers, Berenjak, Hoppers, Bao and Trishna direct to your door and all restaurants offer gift vouchers and check out the quirky Bao shop complete with posters, crockery and t-shirts.
Som Saa – Takeaway menu coming soon and vouchers available over the next few weeks will be worth 125% of face value so well worth being purchased! They are also partnering with Badu Sport to assist their "One Community" initiative, which has been launched to help vulnerable families across Hackney by providing tasty meals.
Sam's Riverside – Purchase a Pledge Voucher to support Sam Harrison and his beautiful, new restaurant, which only opened at the end of last year so did not receive any support from the government. Amazingly Sam has raised over 50k through his pledge page thanks to his very loyal customers.
Quo Vardis – Chef Jeremy Lee along with QV crew and friends (Douglas Stewart, Fergus Shields and Dan Spackman) have also been volunteering as cooks for DeliverAid, with ingredient support from some favourite suppliers including Brindisa, Belazu, Neal's Yard and Natoora. The small team have been providing nutritious meals – plus a delicious cheese course – for hospital workers and those in need, all working at a social distance in Jeremy's house. Jeremy has also been sharing many of his delicious recipes on Instagram. Jeremy Lee "Keen to get involved with cooking for the good folk of the NHS. Finding much solace in cooking through this debacle, setting to with the kindness and generosity of some our most cherished suppliers has been a pleasure and an honour. Turning home into a field kitchen dotted with willing volunteers from the kitchen and address book has been a pleasure and an honour not without some much needed humour. having reruns of Will and Grace and  a fair few Bond films playing on a loop jollies along the affair no end. The support and organisation from Deliver Aid is impressive to say the least. There is a not so quiet satisfaction when a volunteer comes and carts the 200 boxes in time for such." 
We are also supporting Hospitality Union #NationalTimeOut campaign asking the Chancellor for a 9-month rent free period and 'pause' on debts hospitalityunion.co.uk