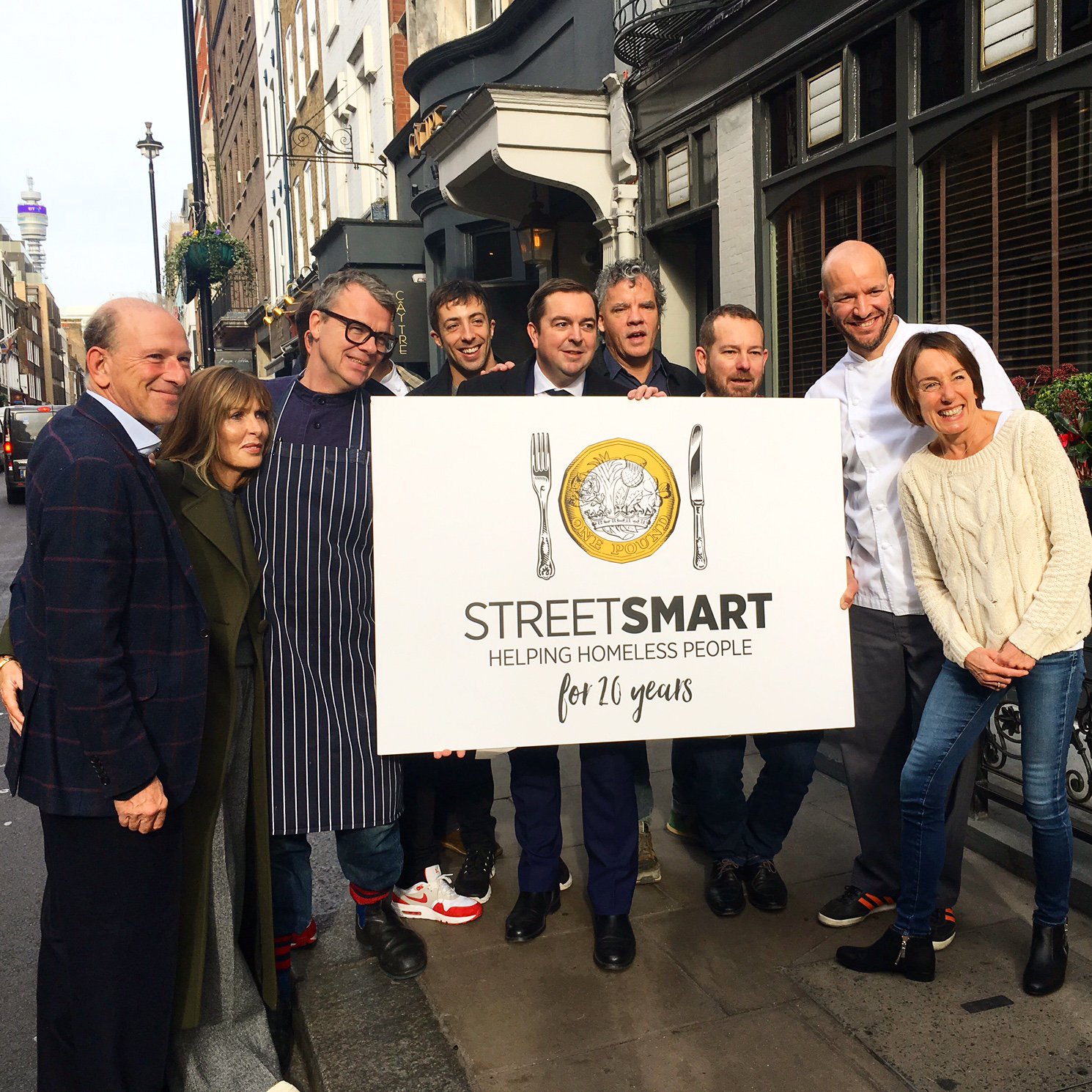 Today is the launch of StreetSmart's annual restaurant campaign against homelessness. We have raised over £8.2 million across two decades, through the simple initiative of adding a voluntary pound to diners' bills during the festive months of November and December.
This Christmas marks the twentieth-year of the campaign. 'I noticed a man sleeping outside the door of The Groucho club and I decided we needed to do something about it,' explained William Seighart, the co-founder of StreetSmart. Reflecting on the charity's conception back in 1998, he added: 'It has been an effective, wondrous way of giving. We've been here for twenty years, and I hope we'll still be here in twenty years.'
Over five hundred restaurants, across twenty-two cities, have signed up to the campaign this year. Many of the participating regions such as London, Bristol, Manchester and Cornwall have been flagged as local authorities with the highest levels of rough sleeping across the country, according to data provided by Homeless Link.
Restaurants keen to tackle the issue include Alyn Williams, Fortnum & Mason and Ottolenghi in London, Hubbox and Fishers in Bristol, Issho and Harvey Nichols in Leeds, Lewinnick Lodge and The Square in Cornwall, and Store Street Exchange in Manchester.
The money raised in each city stays local and goes to supporting grass-root homelessness projects that actively improve the lives of vulnerable people. Projects supported range from soup kitchens and emergency shelters to training programmes, youth-support and prevention schemes. Not a penny is taken for operational and administration costs as our partner, Deutsche Bank, covers these.
The Mayor of Manchester, Andy Burnham, recently pledged his support to the campaign. 'I'm so grateful to StreetSmart for joining up with us this year,' he said. 'All the money raised will directly support our fight against rough sleeping and homelessness in Manchester. So we just encourage anyone that's dining out this winter to check the StreetSmart website, find the participating restaurants, have a good time, and give your support to ending homelessness.' The Mayor's Homelessness Fund, to which Burnham has already committed to donating 15% of his salary, will be the main beneficiary of the money raised in Manchester.
Newcomers this year include Shuang Shuang, Twist at Crawford, Ikoyi and Salt the Radish in London, as well as The New Steine in Brighton, The Top Lock in Manchester and Ellenborough Park in Bristol.
Ben and Dom, of Pasta Loco in Bristol, said: 'Helping the homeless in this vibrant town does not just feel like a care of duty, but a responsibility as a business whom offer food and drink to Bristol. Pasta Loco has received so much warmth and support from this fantastic city so it's only right we help give back!'
And giving back this Christmas could not be more vital. A report released from the National Audit Office last month revealed that homelessness has increased by 134% since 2010. In March, the number of households across England who qualified for temporary accommodation stood at 77,240, an increase of 60% since 2011, with the figure set to rise this winter.
Jeremy Lee of Quo Vadis, whose restaurant has participated since the beginning, said: 'I think its secret is that it's dead simple. Today all of us often feel far too busy and serious to do anything, but with this tiny effort you can end up with a large lump sum after Christmas. It's a small gesture for a big problem. Hopefully one day it won't be necessary.'
The campaign will run from November 1 to December 31. For a full list of participating restaurants, visit: https://streetsmart.org.uk/restaurants/ or @StreetSmartUK